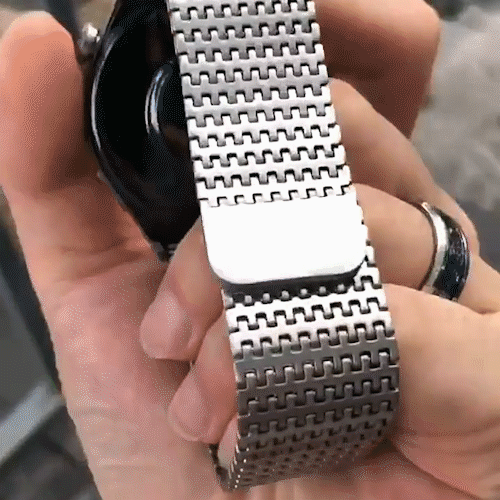 Extraordinary tactility Seiko design: simple and classic design, make your outdoor activities easy. The durable quality can be freely replaced with different straps, highlighting its noble connotation.
There is more than one interpretation of beauty: the watch body is sharp and angular, showing the beauty of strength, equipped with 3D curved glass, matched with leather strap or skin-friendly silicone strap Milanese steel strap, showing pure modern aesthetics, showing elegance with every gesture!
Choose your favorite 3D dial: simple, sports, mechanical, fashion... You can switch between various styles of dials at will, and match them with different styles of sports, daily and business clothing, allowing you to easily control various styles occasion
New Milanese watch strap with strong magnetic absorption: Strong magnetic adsorption that can't be shaken off, refreshing and breathable, not afraid of wear and tear, free adjustment, exquisite weaving, comfortable to wear, waterproof and sweatproof!
A variety of sports modes are waiting for you to try: the watch has built-in walking, running, cycling, mountaineering, yoga circular machine, basketball, football, badminton, table tennis, rugby tennis, baseball, rope skipping, long jump, sit-ups, volleyball A variety of sports modes, fully prepared for you who love sports
Light luxury texture of stainless steel weaving: Milanese precision weaving, fine polishing and fine grinding, high strength and wear resistance, light luxury texture, beautiful to wear
Massive dial market: Customize the dial, after connecting the mobile app, you can download more beautiful dials in the dial market, if you want to be more personalized, you can upload your favorite photos and make your own dial
AI Voice Assistant Personal Accompaniment: Exclusive AI voice algorithm, able to listen and do, on call, double-click to wake up the voice assistant, completely free your hands, and complete command operations through the AI voice assistant. Hands are worse than mouth, convenient and quick
Powerful and multifunctional NFC: It is more convenient to unlock the access control, and load various cards into your watch. When you get home, the watch can also unlock the door. Just lift the watch on your wrist and approach the NFC door lock to quickly open the door.
The length of the mobile buckle is as you like: it can be adjusted flexibly in all directions and can better fit the wrist when wearing it
AFTER SALE SERVICE